Type of Roll Die Cutting Machine
Publish Time:
Author: Site Editor
Visit: 633
Product Description
There are two types of web Roll die cutting machine, namely, round and flat type, and what we are introducing today is the flat-bed type web die-cutting machine. Flat-bed roll paper die cutting machine is a kind of machine that performs die cutting and creasing by roll paper feeding. It has two methods: wired external and on-line.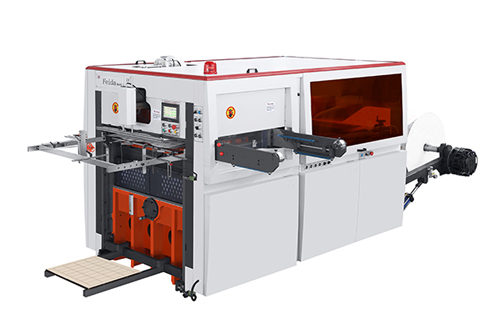 Off-line processing is to use a printing machine to print the paper roll, and then put the paper roll back on the paper machine onto the paper feed frame of the die cutting machine for die cutting and indentation processing. The characteristic of the off-line processing method is that the printing machine and the die-cutting and creasing machine are not connected, and they are not restricted to each other. The printing machine can be adjusted and printed with multiple die-cutting machines to cooperate with the printing machine, or increase the start-up time of the die-cutting and creasing machine.
The in-line processing method is to connect the die-cutting machine and the printing machine to form an intermodal machine. Starting from the paper roll, a printing, die-cutting and creasing process is used for production. This method can reduce the number of operators. However, the speed of the general printing machine is higher, and the speed of the die-cutting and creasing machine is lower. Production efficiency is affected.
About Us
Zhejiang Feida Machinery Co.,Ltd is an enterprise which focuses on research and development, manufacture, sale, and after-sales service of Full Automatic Roll Flatbed Die Cutting Machine,Flexo Printing Machine,Embossing Machine, Creasing Machine and Stripping Machine for Eco containers, for example Paper Ripple Cups, Paper Bowls, Recyclable Paper Products, Paper Ice Cream Cups, Paper Chip Box, High Quality Paper Disposable Cups, Paper Cups Blanks, Paper Cup Sleeves and so on.